AUGUST 23-25, 2019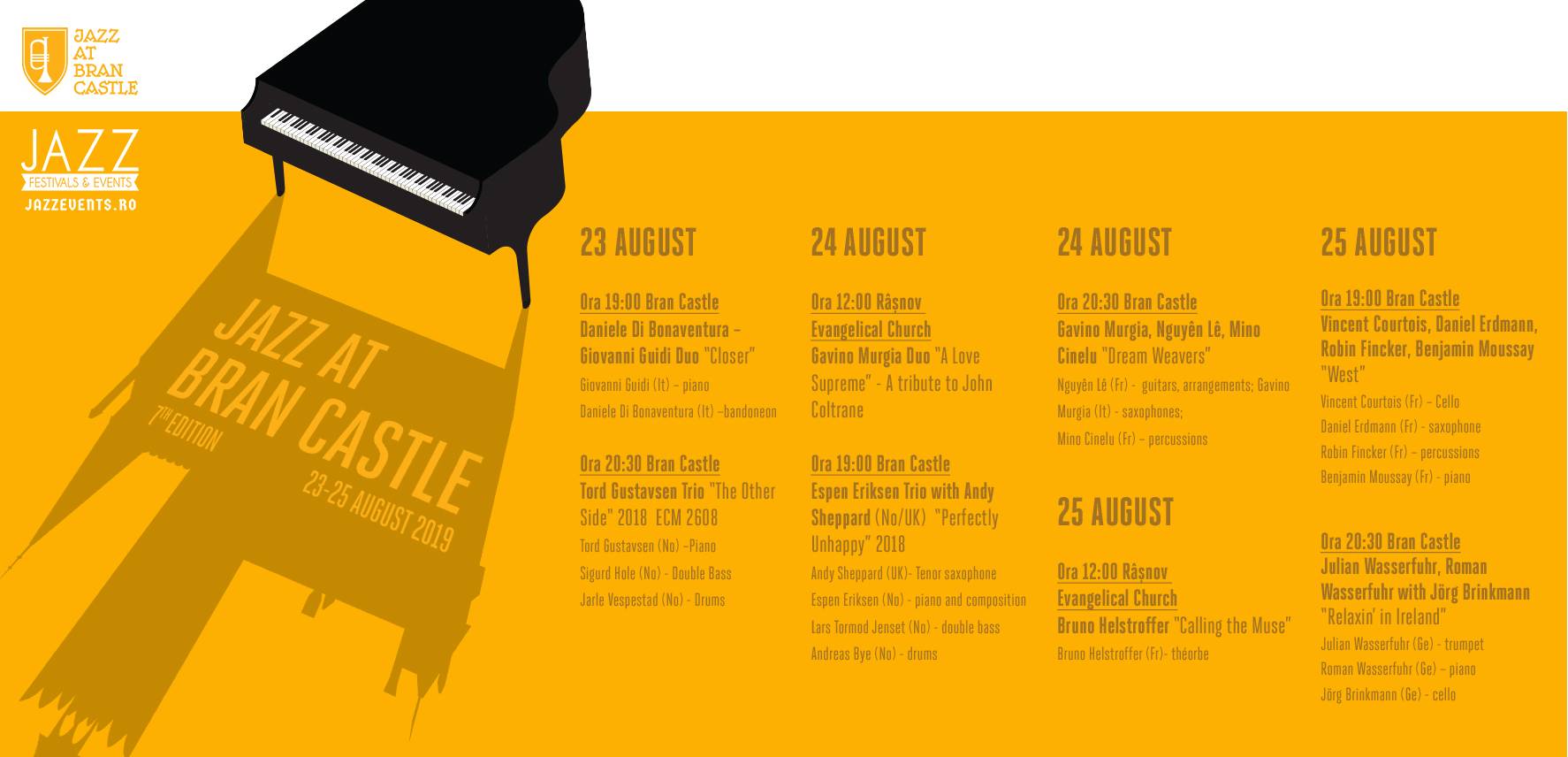 TICKETS PRICES:

Tickets and passes for the 7th edition of Jazz at Bran Castle can be purchased from :
• Eventim office located at Bratianu Avenue no 6, Bucharest, Monday to Sunday 12:00-9:30PM, Tel: 1951
• Eventim online: BOOK TICKETS
The pass is valid and grants access to all the festival concerts from August 23 to 25, 2019 – price RON 500.
The ticket for a concert - price RON 200.
EVENT DETAILS:

JAZZ FESTIVALS & EVENTS Cultural Foundation, in partnership with the Administration Company of the Bran Domain, is organizing the seventh edition of the JAZZ AT BRAN CASTLE Festival between august 23rd – 25th 2019. The concerts will take place in the already traditional locations: the inner courtyard of the Bran Castle and the Râșnov Evangelical Church.
This year, 20 artists from five countries will meet an audience with a passion for jazz, original sounds and new projects. Some will showcase their new albums while others will reunite with friends they have not performed with in years.
The honor of opening the first day of the festival goes to Italian bandeonist Daniele Di Bonaventura, seconded by the volcanic pianist Giovanni Guidi. Their project, CLOSER, will enchant with its poetry and restlessness, with the brilliant meld of tango and blues with the melancholy of the Mediterranean. The second group of the evening requires no presentation: Tord Gustavsen Trio, with their most recent album, THE OTHER SIDE, released in August, at ECM.
The second day begins at the Râșnov Evangelical Church. The baroque ambiance will be the setting for the music of Gavino Murgia Duo, in a homage paid to the great John Coltrane. Later in the evening, at 7 pm, the host is once again the Castle for two exceptional concerts: Espen Eriksen Trio, alongside versatile sax player Andy Sheppard, with their project PERFECTLY UNHAPPY, and the DREAM WEAVERS, presented by three musicians that will yet again surprise their audience: Gavino Murgia, Nguyen Le and Mino Cinelu.
The Rășnov Church starts the third and last day of the festival with another incredible concert: Bruno Helstoffer will "call on the muses" by way of the theorbo. As the last chords still reverberate we will move again to the Castle's inner courtyard. Cellist Vincent Courtois will interact with Daniel Erdmann, Robin Fincker and Benjamin Moussay in their project, WEST. The evening will close with the songs of the album RELAXIN' IN IRELAND (ACT), where the trumpet of Julian Wasserfuhr will sound alongside the piano (Roman Wasserfuhr) and cello (Jorg Brinkmann).
For three memorable days, jazz, the unequaled beauty of the Bran castle and the Râșnov Evangelical Church will become the magnetic pole for all quality music lovers.
Concerts will start on Friday, August 23rd, until Sunday, August 25th, in the Râșnov Evangelical Church, starting at 12 o'clock, and in the Bran Castle, starting at 7pm, as follows:
The concerts' schedule is set forth as follows:
PROGRAM:

FRIDAY, AUGUST 23th
7:00PM - Bran Castle
Daniele Di Bonaventura - Giovanni Guidi Duo - Closer
Tord Gustavsen Trio - The Other Side

SATURDAY, AUGUST 24th
12PM - Râșnov Evangelical Church
Gavino Murgia Duo - A love Supreme - A tribute to John Coltrane

7:00PM - Bran Castle
Espen Eriksen Trio with Andy Sheppard - Perfectly Unhappy
Gavino Murgia, Nguyen Le & Mino Cinelu - Dream Weavers

SUNDAY, AUGUST 25th
12PM - Râșnov Evangelical Church
Bruno Helstroffer - Calling the Muse

7:00PM - Bran Castle
Vincent Courtois, Daniel Erdmann, Robin Fincker & Benjamin Moussay - WEST
Julian Wasserfuhr, Roman Wasserfuhr, Jorg Brinkmann - Relaxin' in Ireland